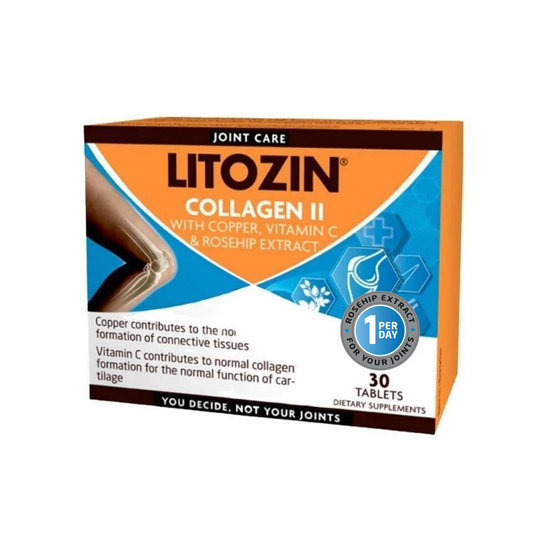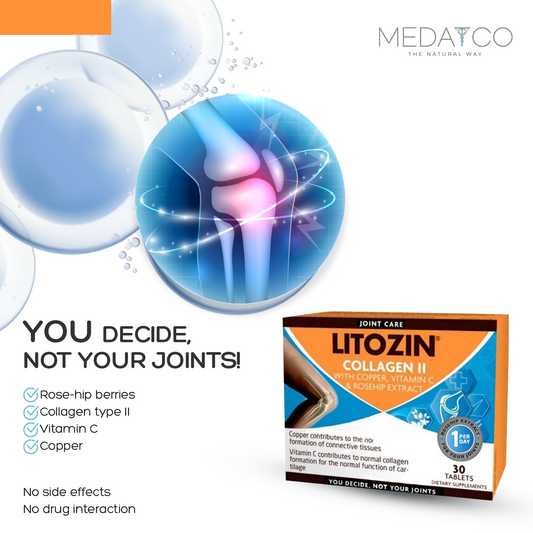 Litozin® Collagen
Description

Litozin® Collagen is a new unique natural combination made from specially processed Rose-Hip Berries, Collagen, Vitamin C and Copper. This multi-ingredients combination results in a strong synergistic effect, leading to a high efficacy and rapid relief. The rose-hip extract in LitoZin is unique and made from our own rosehip powder which is preserved through a gentle drying process. The rose-hip powder plays a valuable role in maintaining healthy and flexible joints without any side-effects. Collagen is a protein that exists in cartilage, bones and muscles to provide strength and structure. As your body ages, your collagen breaks down causing joint pain and stiffness. Collagen type II which is used in LitoZin is highly effective for restoring joint flexibility. Vitamin C and Copper contributes to the normal production of collagen. As a result, people suffering from Osteo-Arthritis no longer need to buy and try several individual products.

Indications

Joint Pain
Joint Stiffness
Joint inflammation

Dosage

Suitable for

Athletes(maintain healthy flexible joints)
Office workers (neck and back pain)
Obese people
Elderly people
Joint injuries
Women suffering from joint overuse
(pregnancy, carrying babies, house cleaning, etc...)

 Decreases daily consumption of analgesics and anti-inflammatory drugs. Has no drug-drug interaction. Has no special precaution for use. Is safe for Diabetic and Hypertensive patients.